Kathy Bates Net Worth:
$20 Million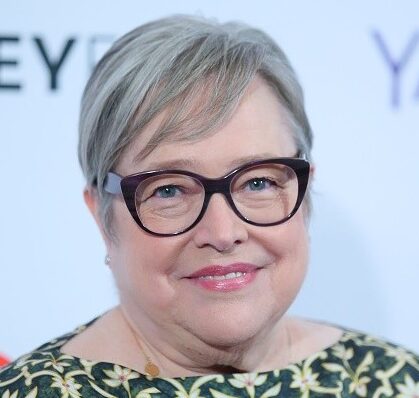 What is Kathy Bates' net worth? Learn all about her earnings!
Kathy Bates Net Worth: Kathy Bates is an American actress and director who has a net worth of $20 million dollars. Bates is known for her performances both onscreen and onstage, appearing in more than 120 film and television projects as well as Broadway productions of "Fifth of July" (1980), "Come Back to the Five and Dime, Jimmy Dean, Jimmy Dean" (1982), and "'night. Mother" (1983–1984), for which she received a Tony-nomination.
Career
Career: Bates made her big screen debut in the 1971 film "Taking Off" and appeared on TV for the first time on a 1977 episode of the NBC soap opera "The Doctors." In 1978, she guest-starred on "The Love Boat" and appeared in the film "Straight Time" alongside Dustin Hoffman. Kathy began performing on Broadway in 1980 when she was cast in "Goodbye Fidel" at the New Ambassador Theatre, and she received a Tony nomination for Best Lead Actress in a Play for "'night, Mother" in 1983. In 1988, her performance in "Frankie and Johnny in the Clair de Lune" earned her an Obie Award for Distinguished Performance by an Actress as well as a Drama Desk Award nomination for Outstanding Actress in a Play. Bates appeared in nine movies during the 1980s, including "Two of a Kind" (1983), "Signs of Life" (1989), and the 1982 film adaptation of "Come Back to the Five and Dime, Jimmy Dean, Jimmy Dean." She also guest-starred on "All My Children" (1984), "One Life to Live" (1984), "Cagney & Lacey" (1986), "St. Elsewhere" (1986–1987), "China Beach" (1989), and "L.A. Law" (1989).
Personal Life
Personal Life: Kathy married Tony Campisi in April 1991, after 13 years together, and they divorced in 1997. In 2003, Bates was diagnosed with ovarian cancer, but it was not public knowledge until January 2009 when she stated that she had been "in total remission" for more than five years. She was diagnosed with breast cancer in July 2012 and underwent a double mastectomy. Two years later at the New York Walk for Lymphedema & Lymphatic Diseases, Kathy revealed (in a pre-recorded message) that she has lymphedema in her arms as a result of the double mastectomy, and she began serving on the Lymphatic Education & Research Network's honorary board as a chairperson later that year. Bates also became a spokesperson for lymphedema, and in 2018, she took part in Capitol Hill Lobby Day in an attempt to get more research funding for the condition and spoke at the DC/VA Walk to Fight Lymphedema & Lymphatic Diseases. She was honored with a 2018 WebMD Health Heroes "Game Changer" Award for her dedication to raising awareness of lymphedema.
Quotes
"I have really focused on mindfulness. That helps me make better choices both physically, psychologically, and emotionally."

— Kathy Bates
"I kind of grew up on horror."

— Kathy Bates
"When I met President Obama, all I could say was 'wow' – twice. What an idiot."

— Kathy Bates
"My mother used to tell this corny story about how the doctor smacked me on the behind when I was born and I thought it was applause, and I have been looking for it ever since."

— Kathy Bates
"It matters to me, acting. It's what I do. It's what I've given up a lot to do. It's my life source. And I guess I'm too serious about it sometimes, but I want to treat it right."

— Kathy Bates