Ethan Hawke Net Worth:
$55 Million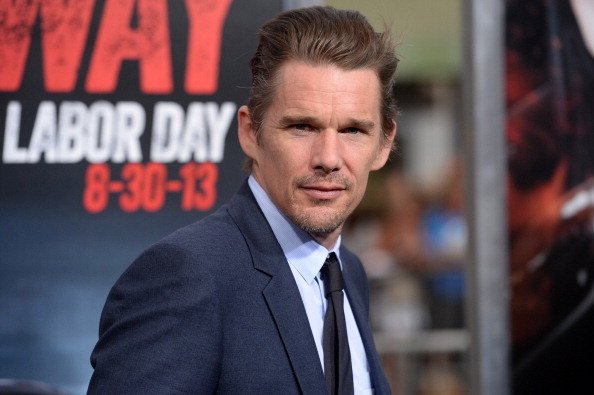 What is Ethan Hawke's net worth? Learn all about his earnings!
Ethan Hawke is an American actor, director, writer, and author who has a net worth of $55 million. Ethan Hawke is probably one of the most well-known and accomplished actors of his generation, having appeared in a number of memorable films over the past few decades. Over the course of his career, he has won a number of honors and accolades. After making early appearances in films like "Explorers" and "Dead Poets Society," Hawke made a name for himself with movies such as "Reality Bites" and Richard Linklater's "Before" trilogy.
Career
Even before Hawke had graduated from high school, his acting career was already well underway. After attending his first casting call at the age of 14, he booked an early role in "Explorers" alongside an equally young River Phoenix. The film received strong reviews but failed to perform at the box office, and this critical disappointment caused Ethan to quit acting for a brief period. However, he followed up with a role in "Dead Poets Society" in 1989, and this proved to be a much more successful experience for him. Even to this day, "Dead Poets Society" is Hawke's highest-grossing film, with gross earnings of $235 million worldwide.
Quotes
"I think that if you walk through this life and I end up being a bad father, then it won't matter anything else I achieved in my life. It will all be irrelevant."

— Ethan Hawke
"The more kind of head trippy sci-fi. I always like that. I was a big 'Twilight Zone' freak."

— Ethan Hawke
"The girls who like me aren't the ones I like. Or, if I do and they want to commit, I suddenly need tons of time with my friends."

— Ethan Hawke
"You know, I auditioned for 'Titanic.' Sometimes I muse on what would have happened. That would have been such a different life."

— Ethan Hawke
"I did one sci-fi movie. I did 'Gattaca.' I liked 'Gattaca' because that was always the kind of science fiction I really dug, the non-action oriented sci-fi."

— Ethan Hawke