William H. Macy Net Worth:
$45 Million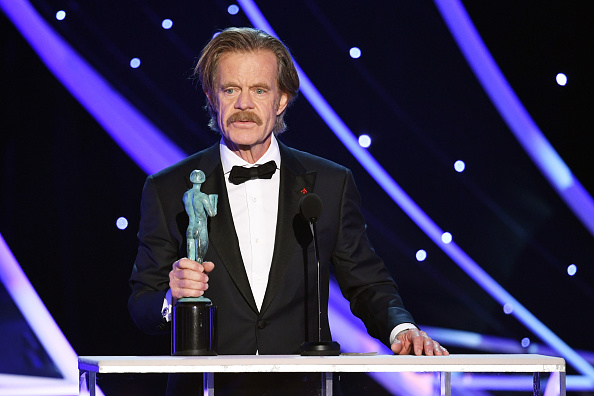 What is William H. Macy's net worth? Learn all about his earnings!
William H. Macy is an American actor, writer, and director who has a net worth of $45 million. That is a combined net worth with his wife Felicity Huffman. Macy is perhaps most beloved for his role as Jerry Lundegaard in the 1996 film "Fargo," which earned him an Academy Award nomination. William has more than 130 acting credits to his name, including "Boogie Nights" (1997), "Wag the Dog" (1997), "Mystery Men" (1999), "Magnolia" (1999), and "The Lincoln Lawyer" (2011). Macy appeared as Dr. David Morgenstern on 31 episodes of the NBC medical drama "ER" from 1994 to 2009, and in 2011, he began playing Frank Gallagher on the Showtime series "Shameless," a role that has earned him five Primetime Emmy nominations.
Career
After he graduated from college in 1972, Macy appeared in several David Mamet plays, originating roles in "American Buffalo" and "The Water Engine." William lived in Chicago and Los Angeles, then in 1980, he relocated to New York City, where he performed in more than fifty Broadway and Off-Broadway productions. He made his television debut in the 1987 miniseries "The Awakening Land" and his film debut in 1980's "Somewhere in Time." Throughout the 1980s, Macy guest-starred on "Spenser: For Hire" (1985–1988), "Kate & Allie" (1986), and "The Equalizer" (1987) and appeared in the films "The Last Dragon" (1985) and "Radio Days" (1987). He appeared in the "Law & Order" pilot (though it actually aired as the sixth episode of the series) in 1990 and returned as a different character in 1992.
Personal Life
William married actress Felicity Huffman on September 6, 1997, after 15 years of on-and-off dating. They have two daughters, Sophia (born December 1, 2000) and Georgia (March 14, 2002). After filming "Door to Door," Macy was inspired to get involved with the United Cerebral Palsy Association, and the organization named him a national ambassador in 2003. William enjoys playing the ukulele, riding motorcycles, and woodturning, and he was featured on the cover of "Fine Woodworking" magazine's" Wood Turning Basics" issue in 2007.
Quotes
"When I watch a film I get swept away. I don't really watch the camera."

— William H. Macy
"I'm sure I have a process, but it mostly takes place in my dreams."

— William H. Macy
"There are some older women out there who are just knockouts, real beauties, and they're not getting the roles they should."

— William H. Macy
"The only people who do plays in LA are people who can't get jobs in TV shows."

— William H. Macy
"I do them all for the money, I really do."

— William H. Macy