Ving Rhames Net Worth:
$25 Million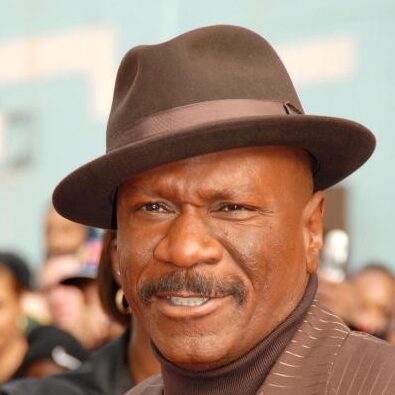 How much is Ving Rhames worth?
Ving Rhames Net Worth and Salary: Ving Rhames is an American actor who has a net worth of $25 million dollars. Rhames is best known for playing Marsellus Wallace in "Pulp Fiction" (1994) and Luther Stickell in the "Mission: Impossible" franchise (1996-present). Ving made his big screen debut in 1984's "Go Tell It on the Mountain," and he has gone on to appear in more than 130 film and television projects, such as "Jacob's Ladder" (1990), "Entrapment" (1999), and "Don King: Only in America" (1997), which earned him a Golden Globe (that he famously gave to Jack Lemmon). He has appeared on several TV series, including "ER" (1994–1996), "The District" (2002–2003), "Kojak" (2005), "Gravity" (2010), and "Monday Mornings" (2013). Rhames is also known as the voice of "Cobra Bubbles" in Disney's "Lilo & Stitch" (2002) and "Lilo & Stitch: The Series" (2003), and he has lent his voice to the video games "Mission: Impossible – Operation Surma" (2003), "Driver 3" (2004), and "Call of Duty: WWII" (2017).
Career
Career: In 1984, Ving performed on Broadway in "The Boys of Winter" and played Young Gabriel Grimes in "Go Tell It on the Mountain." The following year, he began a steady string of television appearances, guest-starring on "Miami Vice" (1985; 1987), "Crime Story" (1986), "Tour of Duty" (1987), "Spenser: For Hire" (1988), and "The Equalizer" (1989) and landing a main role on the ABC drama "Men" (1989). In the1980s, Rhames also filmed the movies "Native Son" (1986), "Patty Hearst" (1988), and "Casualties of War" (1989). Ving appeared in more than 20 films in the 1990s, including "The People Under the Stairs" (1991), "Dave" (1993), "Striptease" (1996), "Rosewood" (1997), and "Out of Sight" (1998). In 1994, he co-starred with John Travolta, Samuel L. Jackson, and Uma Thurman in Quentin Tarantino's "Pulp Fiction," which brought in $213.9 million at the box office, and he joined the "Mission: Impossible" cast in 1996. Rhames has appeared as Luther Stickell in each of the franchise's movies, and he is filming "Mission: Impossible 7" as of this writing; the series has grossed $3.570 billion so far.
Personal Life
Personal Life: Ving married Valerie Scott on July 4, 1994, and they divorced in 1999. He went on to wed Deborah Reed on Christmas Day in 2000, and they welcomed daughter Reignbeau that year and son Freedom in 2002; Rhames is also stepfather to Tiffany, Reed's daughter from a previous relationship. Ving and Deborah reportedly separated in 2011. In 1993, Rhames was reunited with his older brother, Junior, a homeless Army veteran who had been estranged from the family, during the filming of "The Saint of Fort Washington." Ving's co-star Matt Dillon was approached by Junior while filming at a homeless shelter, and later that day, Ving saw his brother for the first time in years. In a 1996 interview with "People" magazine, Rhames stated, "I got him out of the shelter that day. I put him up in my apartment and helped him get a job. Now he lives with my parents in a home I bought in Harlem." In 2016, Ving was held at gunpoint by police in his home after a neighbor reported that a "large black man was breaking into the house." The Santa Monica Police Department apologized after recognizing the actor and later organized a city-wide "Meet Your Neighbors" program.
Quotes
"God has blessed me with a certain amount of presence and a certain amount of charisma."

— Ving Rhames
"I find it so strange that I throw people off-center."

— Ving Rhames
"Rottweilers are victims of a stereotype. They're not that bad."

— Ving Rhames
"You don't have to make, you know, $3 Million dollars a movie, or $20 Million dollars a movie, but if you make a living doing what you love doing, then that's success to me."

— Ving Rhames
"Don King is as American as apple pie. He is America."

— Ving Rhames