Kristen Schaal Net Worth:
$6 Million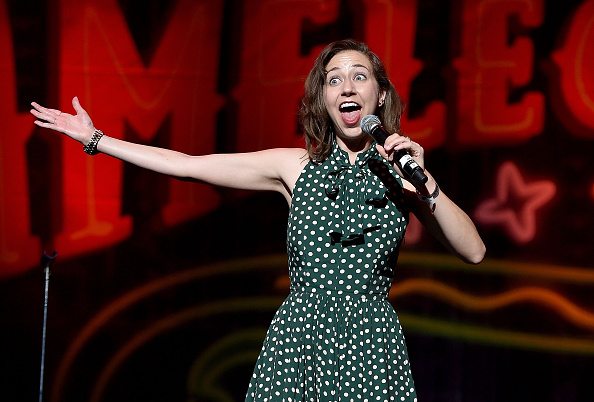 How much is Kristen Schaal worth?
Kristen Schaal is an American actress, voiceover artist, comedian, writer, and producer who has a net worth of $6 million. Kristen is probably best known for playing Mel on "Flight of the Conchords" (2007–2009) and Carol Pilbasian on "The Last Man on Earth" (2015–2018) and for voicing Louise Belcher on "Bob's Burgers" (2011–present) and Mabel Pines on "Gravity Falls" (2012–2016). Schaal has more than 120 acting credits to her name, including the films "Dinner for Schmucks" (2010), "Butter" (2011), and "The Boss" (2016) and the television series "The Heart, She Holler" (2011–2014), "30 Rock" (2012–2013), "The Hotwives of Orlando" (2014), "What We Do in the Shadows" (2019; 2021), and "The Mysterious Benedict Society" (2021–present). She has lent her voice to numerous animated projects, such as "Shrek Forever After" (2010), "Toy Story 3" (2010), "Despicable Me 2" (2013), "Cloudy with a Chance of Meatballs 2" (2013), "Toy Story 4" (2019), "WordGirl" (2010–2015), "Adventure Time" (2012–2014), and "BoJack Horseman" (2014–2020).
Career
Kristen was named Best Alternative Comedian at the US Comedy Arts Festival (2006), Best Female Stand-up at the Nightlife Awards (2006), and Best Female Stand Up Comedian at the ECNY Awards (2007), and she won the Barry Award at the 2008 Melbourne International Comedy Festival for the show "Kristen Schaal As You Have Probably Never Seen Her Before." Around this time, Schaal appeared on Comedy Central's "Live at Gotham" (2006) and began co-hosting the variety show "Hot Tub with Kurt and Kristen" with Kurt Braunohler in Brooklyn (the show moved to Los Angeles in 2013). Before getting her big break on HBO's "Flight of the Conchords," she appeared in the films "Kate & Leopold" (2001), "Poster Boy" (2004), "Adam & Steve" (2005), "Delirious" (2006), and "Norbit" (2007), had a recurring role on "The Education of Max Bickford" (2001–2002), and guest-starred on "Law & Order: Special Victims Unit" (2004), "Six Degrees" (2006), and "Conviction" (2006). From 2007 to 2009, Kristen played superfan Mel on the critically-acclaimed sitcom "Flight of the Conchords," appearing in all but one of the show's 22 episodes. In 2007, she also spent a month as a writer and consultant on "South Park" and guest-starred on "Law & Order: Criminal Intent," "Human Giant," "Mad Men," and "How I Met Your Mother."
Personal Life
Kristen married comedy writer Rich Blomquist on September 14, 2012. Blomquist was a writer for "The Daily Show" from 2002 to 2012 (which earned him seven Primetime Emmys), and he wrote three episodes of "The Last Man on Earth." Kristen and Rich co-wrote the 2010 book "The Sexy Book of Sexy Sex," and they welcomed daughter Ruby in February 2018. During a 2017 charity stream, Schaal revealed that she underwent emergency surgery after suffering a ruptured fallopian tube and ectopic pregnancy. This happened during a "Gravity Falls" recording session and resulted in Kristen losing two liters of blood.
Quotes
"I thought I would either be an epidemiologist or a 'Price Is Right' model."

— Kristen Schaal
"I would love for people to know that the label 'feminist' is something that everyone should wear proudly, because it just means that you support women."

— Kristen Schaal
"My style can't be held within a pixel medium. Like, it needs to be performed in a living, breathing space. People need to have all their senses ready to take on my comedy, and unfortunately, TV alienates at least their sense of touch, taste, smell."

— Kristen Schaal
"Animals in general have sparked a weird depression in me, because as much as I tried, I couldn't layer a personality over them. You know what I mean? I would stare at the cows, and I would sing to the cows, and they would always just look at me blankly."

— Kristen Schaal
"I'm not really a control person, and I'm a big believer in collaboration. I like to have a friend."

— Kristen Schaal