David Arquette Net Worth:
$30 Million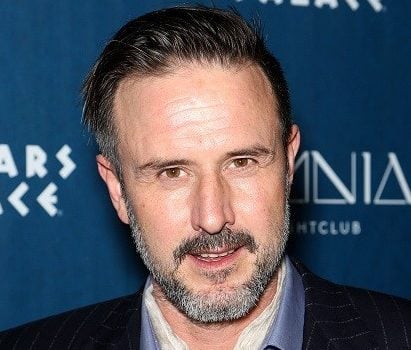 What is David Arquette's net worth? Learn all about his earnings!
David Arquette Net Worth: David Arquette is an American actor, film director, producer, and screenwriter who has a net worth of $30 million dollars. Best known for playing Dewey Riley in the "Scream" horror franchise (1996–present), Arquette has more than 130 acting credits to his name.
Career
Career: Arquette made his television debut in 1990, appearing on 10 episodes of Fox's "The Outsiders" and beginning a 12-episode stint on NBC's "Parenthood." In 1991, he appeared in the film "Where the Day Takes You" and followed it with 1992's "Cruel Doubt" and "Buffy the Vampire Slayer" and 1993's "An Ambush of Ghosts," "Grey Knight," and "At Home with the Webbers." David co-starred with Adam Sandler, Brendan Fraser, and Steve Buscemi in the 1994 comedy "Airheads" and met his future wife, Courteney Cox, while starring in the Wes Craven horror hit "Scream." Arquette has appeared in every film in the "Scream" franchise, which has grossed $608.5 million so far; the fifth film in the series is set to be released in 2022. In 1999, David co-starred with Drew Barrymore in "Never Been Kissed" and played a sadistic scientist in "Muppets from Space." He teamed up with The Muppets again in 2002's "It's a Very Merry Muppet Christmas Movie." Arquette appeared in Stephen King's "Riding the Bullet" in 2004 and landed a leading role on the ABC sitcom "In Case of Emergency" in 2007.
Personal Life
Personal Life: David married "Scream" co-star Courteney Cox on June 12, 1999, and they welcomed daughter Coco on June 13, 2004. Arquette and Cox formed Coquette Productions in 2004 and produced Courteney's TV series "Dirt" (2007–2008) and "Cougar Town" (2009–2015) as well as "Celebrity Name Game" (2014–2017) and "Daisy Does America" (2005). David and Courteney divorced in May 2013, nearly 2 1/2 years after separating. Arquette began a relationship with Christina McLarty, an "Entertainment Tonight" correspondent, in 2011, and the couple wed on April 12, 2015. David and Christina have two sons, Charlie (born April 28, 2014) and Augustus (born March 8, 2017). Arquette is part-owner of a Los Angeles nightclub called Bootsy Bellows, and he became a certified Bob Ross instructor after training in Ross' distinctive landscape painting technique. David used to be in a band, Ear2000, who contributed the song "The Race" to the "Scream 2" soundtrack and "Click Click" to the "Scream 3" soundtrack. He also runs a clothing line, Propr Collection, with musician Ben Harper, and Image Comics adapted his film "The Tripper" into a comic book (which he co-wrote) in 2007.
Quotes
"I love when you go to a horror film with real horror fans and everybody's there watching, getting involved and screaming. That's when it's most alive and exciting for me."

— David Arquette
"When you're just an actor, maybe not the top of the list guys, you get constant rejection and it's fun."

— David Arquette
"I love round people, I love skinny people. I love people in general; we've got to get past labels and stop being so critical about everything."

— David Arquette
"People that go through what I went through and people going through divorce, it's really a difficulty process; it's heartbreaking and it hurts really bad. It can really mess with your head."

— David Arquette
"To get involved with a cause, you really have to become aware of it. You have to go on the ground and see with your own eyes, the people who have been affected by it, their process in how they're combating it, and what the organization represents."

— David Arquette