Alicia Witt Net Worth:
$4 Million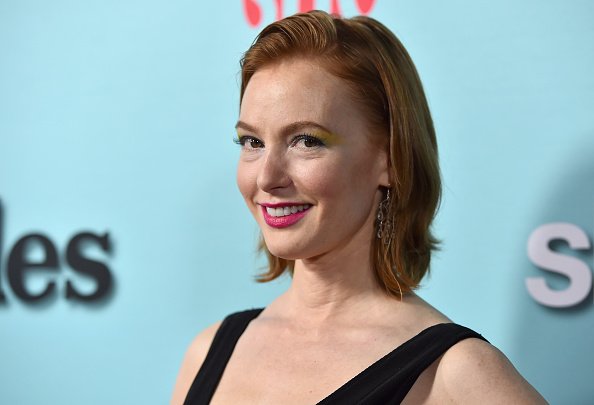 What is Alicia Witt's net worth? Learn all about her earnings!
Alicia Witt is an American actress, singer-songwriter, pianist, writer, and producer who has a net worth of $4 million. Witt first starred as Alia in the 1984 film "Dune," and she played Zoey Woodbine on the CBS sitcom "Cybill" from 1995 to 1998.
Career
After playing the "flame-haired" child in "Dune," Alicia was cast as Gersten Hayward in a 1990 episode of David Lynch's "Twin Peaks." She reprised her role in two episodes of "Twin Peaks: The Return" in 2017. In the early '90s, she appeared in the films "Liebestraum" (1991) and "Bodies, Rest & Motion" (1993) and the miniseries "Hotel Room" (1993). In 1994, Witt played the lead role of Bonnie, a teenage murderer, in the independent Canadian film "Fun," which earned her an award at the Sundance Film Festival. She appeared in the 1994 TV movie "The Disappearance of Vonnie," and in 1995, she played Madonna's lover in "Four Rooms" and starred as Gertrude Lang in "Mr. Holland's Opus." From 1995 to 1998, Alicia played Zoey Woodbine on "Cybill" alongside Cybill Shepherd and Christine Baranski. The series aired 87 episodes over four seasons and won a Golden Globe for Best Television Series – Musical or Comedy in 1996. Witt appeared in the films "Citizen Ruth" (1996), "Bongwater" (1997), and "The Reef" (1999), and she starred as Natalie Simon in the 1998 slasher film "Urban Legend." She guest-starred on "Ally McBeal" (2000), "The Sopranos" (2000), "The Twilight Zone" (2003), "Two and a Half Men" (2008), and "The Mentalist" (2009–2012), and she had a recurring role as Detective Nola Falacci on the police procedural "Law & Order: Criminal Intent" in 2007.
Personal Life
Alicia reportedly dated musician Ben Folds in 2012 after his fourth marriage ended, and they collaborated on the theme song to Alicia's 2013 film "Cold Turkey" as well as the album "Revisionary History." Witt's parents were found dead in their home in Worcester on December 20, 2021. Alicia said of the tragedy, "After not hearing back from my parents for several days, I reached out to a cousin who lives close to my parents to check on them. Sadly, the outcome was unimaginable. I ask for some privacy at this time to grieve and to wrap my head around this turn of events, and this surreal loss." As of this writing, no cause of death has been announced, but the Worcester newspaper "Telegram & Gazette" reported that "freezing temperatures, a malfunctioning furnace, a temporary space heater and a home in need of repairs may have contributed to the deaths."
Quotes
"I was so happy that it filmed in New York not only because it's an amazing city, but also because a lot of people across the world somehow started to think about New York as a dangerous place to be and envisioned it as some war zone after that happened."

— Alicia Witt
"John Waters has certainly gotten to a place in his life where he doesn't do anything he doesn't want to do. He's always been that way, but at this point, he's greatly respected for it."

— Alicia Witt
"You have to really concentrate on piano or acting. You can't do both."

— Alicia Witt
"When I was a kid, my dream was to be a farmer and marry Charlie Brown. I wanted to rescue him and make him happy. Besides, he was always lusting after the little redhead girl."

— Alicia Witt
"My goal is to just keep playing roles that are different from the roles I've played before."

— Alicia Witt